If you are wondering which web solution is better for you, WordPress or WebFlow, let us help you make a decision. This decision could be a real struggle if you don't know what these tools offer. So we will go over both these approaches and discuss which one fits your needs better.
What is WordPress?
WordPress is a relatively popular and widely used Content Management System or CMS that allows you to build your websites effortlessly and efficiently. You can install it on your web server and get to work. Since WordPress is a free and open-source CMS, you can download it anytime and use it for business, blogging, online stores, portfolios, etc.
What is WebFlow?
WebFlow is a website builder that offers easy-to-use visual web design tools to build websites. However, WebFlow uses a Software As A Service (SAAS) approach and helps you create websites through visual drag-and-drop tools requiring little to no effort. One of the biggest pros of using WebFlow is that it saves you from doing coding and does this job for you instead. Nevertheless, you can write your own code if that is what you want.
WebFlow's target audience is usually those with a bit of know-how in coding because this can help build a highly-customised website. Now that we know WordPress and WebFlow, let us move ahead to some of these platforms' features.
WordPress Features
Some features of WordPress include: –
Ease of use
WordPress is the most popularly used Content Management System, and more than 40% of all websites on the internet are courtesy of WordPress. The ease of use offered by WordPress is unmatched, but several things require learning, and you learn them with time. It will take some time to get to know WordPress themes, plugins, and other essential tools for building WordPress websites. Most plugins aren't very hard to configure, and after a few interactions with WordPress, you learn to work with its visual editors that help you add content to your website.
Cost
Usually, the cost of building a website can be one of the prime factors people consider. Therefore, people look for ways to reduce this cost, which is why WordPress is a great platform. WordPress is free but requires you to pay for hosting and a domain name. Moreover, WordPress also offers premium plugins that you would have to pay for.
WordPress library offers thousands of free plugins and themes for beginners and people on a low budget. This way, you can keep your cost down and still build a good website for your business.
Themes and plugins
Designing a website requires a variety of tools as well as the skill to design a website. With WordPress, you get free and paid tools to create the design you have always wanted. In addition, WordPress offers professionally designed themes that can help you build a website, and if you don't like that theme, you can switch without worry. Furthermore, you can also customise your themes to suit your needs better.
WordPress has an extensive market of themes and plugins that allow you to pick the ones that meet your needs. This way, you enjoy better flexibility and the freedom to customise your website to your liking. Moreover, WordPress plugins allow you to add additional features and functionality to your website. These features could be anything, including those that are not offered by WordPress itself and are third-party products. These plugins provide functionality like improving SEO, making your website responsive, better security, etc.
Support
Even the best of us might need help sometimes; the same is valid with web development. The WordPress community is lucky because WordPress is open-source software and offers free community support 24/7. In addition, it has official support forums that welcome developers to share their queries and encourage others to provide solutions to those queries.
Because of its popularity, WordPress queries rarely go unsolved, and you can always hire a WordPress developer for professional services. In addition, WordPress developers are super easy to find because of their popularity, and they are not very expensive.
Moreover, you can always google your queries as we do with every other thing, and chances are that you will find a solution to your problem there as well.
WebFlow Features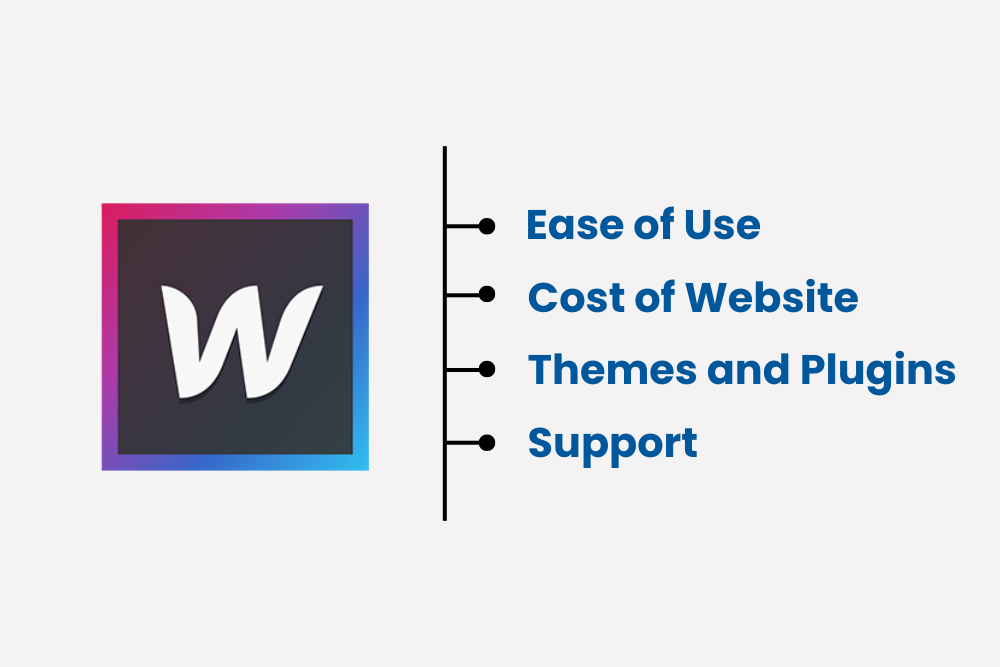 Let us have a look at some features of WebFlow: –
Ease of use
WebFlow offers a variety of tools and templates that ensure ease of use for its users. Its visual user interface allows you to design a website and add content to it with a live preview. However, the visual editor of WebFlow can seem a bit complicated to beginners as they might struggle to familiarise themselves with it. WebFlow is usually targeted towards professionals and web developers who know their way around design and development, occasionally using code. Furthermore, WebFlow lacks features like tags, categories, discussion and comments, etc., and you might miss these things as a content publisher.
Cost
As a beginner, you might worry more about the total cost of your website-building process. With WebFlow, you get a limited version free of cost, with limited features and functionality. Paid plans of WebFlow have two different types, they are called Account Plans and Site Plans.
Account Plans allow you to manage several websites as projects and are billed annually. With Account Plans, you can use the hosting of WebFlow, or download and export the code to a different hosting. However, exporting the code would restrict some of the functionality of WebFlow, such as eCommerce checkouts and forms.
On the other hand, Site plans offer one website per plan, and its pricing depends on the type of website you want. Every kind of site plan includes different features based on the needs of that plan. Site plans are divided into four categories: Basic, CMS, Business, and Enterprise. Moreover, Site Plans also has an additional category of eCommerce Plans that is more suitable for online stores. Site plans are also billed annually, and annual billing saves you some money compared to monthly billing.
Themes and plugins
Like WordPress, WebFlow also comes with many free themes and plugins that you can use for different types of websites. However, unlike WordPress, you don't have the freedom to switch to a different theme once you have selected a theme for your project. With WebFlow's visual design editor, you can edit your template without any hassle. But, the changes you make to the layout of a theme, such as a header, footer, and navigation, are applied everywhere on the site.
Regarding plugins and other add-ons, WebFlow offers a limited number of these third-party services. Usually, these plugins require you to go through a tutorial on integrating them with your project.
Support
WebFlow contains a massive library called WebFlow University, full of tutorials, guides, step-by-step instructions, and articles about various topics and queries related to WebFlow. It also offers customer support via emails Monday through Friday. There is also a WebFlow Support forum where experts and dev gurus provide solutions to queries posted there.
Comparison between WordPress and WebFlow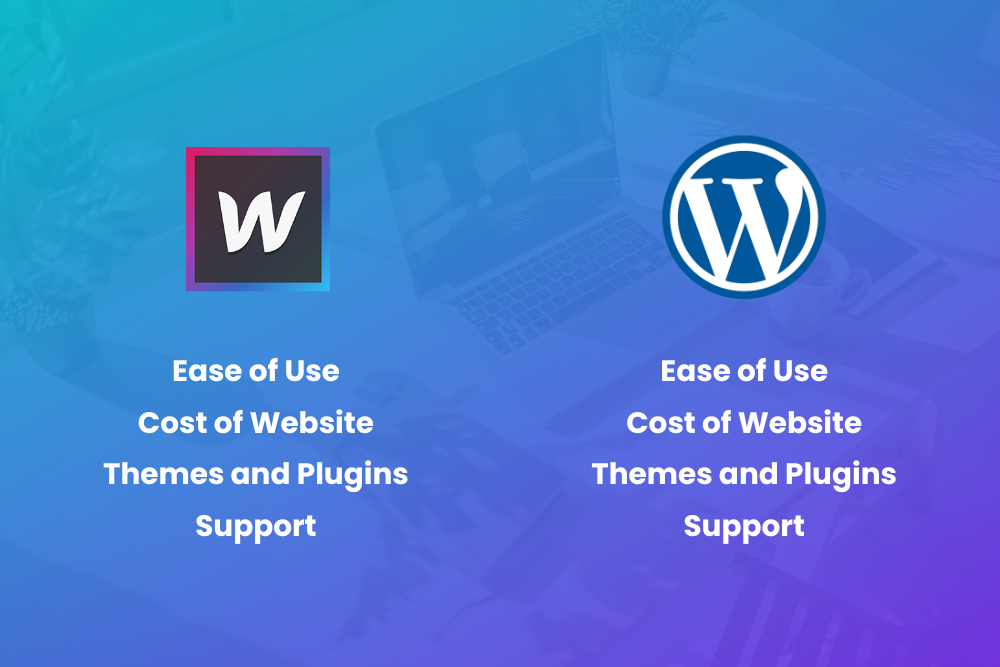 Considering the difference between the features of WordPress and WebFlow, we hope that our conclusion will help you make an informed decision. When the ease of use is questioned, WordPress and WebFlow remain equal because both offer themes and layouts that let you do an effortless job of designing a website. However, WebFlow comes with a learning curve, and you might need some time to get accustomed to its functionality and features. Moreover, WebFlow doesn't offer much freedom in publishing content and doesn't have features like comments, tags, categories, etc.
In terms of costs, WordPress is a much better platform than WebFlow because the free version of WebFlow has minimal functionality. However, WordPress not only has a more significant number of plugins but also offers a wide range of free ones. So, you can create a website with little to no cost without spending on premium add-ons and upgrading your hosting.
When it comes to designing themes, WordPress offers more freedom and flexibility than WebFlow. WordPress keeps the design separate from content and functionality. Whereas, WebFlow layout elements are changed sitewide if you customise one page. Moreover, WordPress offers more tools and better designs to design your website.
Because WordPress is known as the largest Content Management System in the world, it offers better support available in multiple languages worldwide. Furthermore, third-party developers provide WordPress support, and many of them are free. However, WebFlow offers professional support only through email on a limited number of days a week.
Conclusion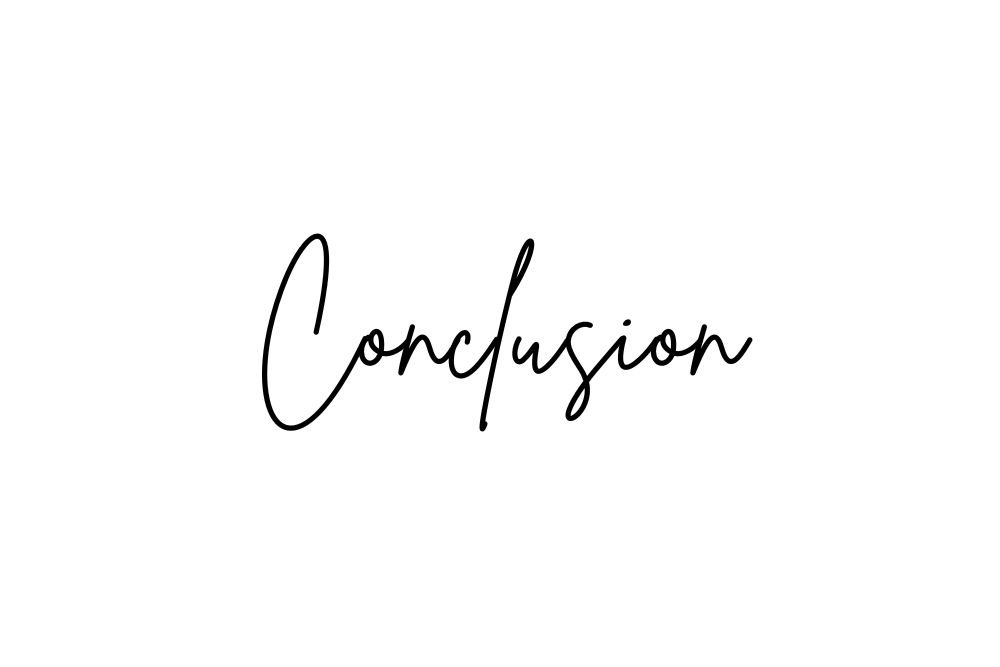 WordPress and WebFlow are great platforms you can use to build a website. However, it would be best if you decide to depend on your needs and budget. Therefore, it would help to consider what you value in a website building platform, such as efficiency, cost, flexibility, integration with add-ons, etc.
If we have to make a clear distinction, it would not be wrong to say that WordPress is a much better and safer option for beginners. Novice users can quickly get around WordPress, whereas with WebFlow, it will take some time to get accustomed to its functionality. WebFlow may be a better option for professional designers and developers because it allows them to build websites with more efficiency.
Ultimately, the decision is yours. You should assess your needs and determine which platform would better fit your website. Read the Wix Vs. WordPress Comparision also.